Follow us on Instagram and FAcebook
Hydrophobic Performance
Hydrophobic Performance Apparel
Hydrophobic hahy-druh-foh-bik "The Fear of Water".  The most water resistant shirt on the market.  Fabric made from polyester fibers coated with millions of tiny silicone filaments creates the most water-repellent clothing material ever.  Still our combination blend of 88% polyester 12% spandex that repels everything from water to red wine.  Running in high seas?  No problem, sea spray repels right off keeping you performing your best on or off the water.  Tested for perfection.
Redefining Performance Offshore Apparel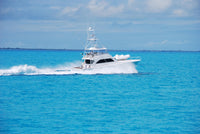 Heading out to Seize the Day Fishing. How will you "Seize the Day?"
Testimonials
A very clean and sleek shirt. Love the fact that I don't look like a human billboard with logos and letters all down the sleeves like so many other fishing apparel companies.   

Captain Chas D.
Not your average long sleeve polyester shirt.  The blend of polyester and spandex really puts this on a different level. Water beads off shirt. Awesome.

Captain Brandi H.
Perfect shirt for being in the sun all day.  Keeps me cool  and protects me from the sun.  It's amazing to watch water run right off the Hydrophobic shirts.  Best performance shirt I own. Thank you. 

Captain Chris B.